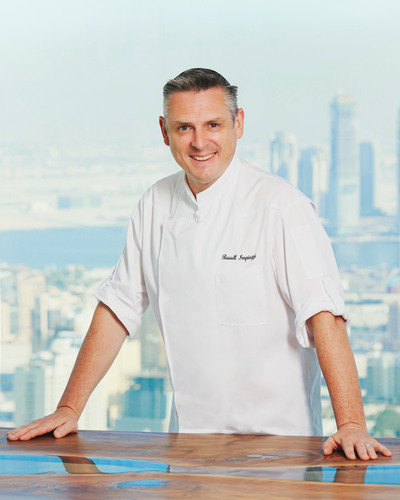 Russell Impiazzi
Executive Chef
,
The Obelisk
Russell's achievements during the past two years :
His commitment to food waste reduction, buying more locally available produce and ensuring cost and waste efficiency remain top of mind, and despite recent food inflation, food costs continue to remain in line.
He started the partnership with UAE Food Bank to help try and scratch the surface of food waste and turn short-shelved life products into meals. He and his team have now provided over 10'000 wholesome meals for the less fortunate using food surplus that was at risk of going to waste. Russell strongly believes that food waste is an ongoing conversation that we have to address together as an industry to find a solution that not only aids but supports a great cause.
Russell's 'Veg pledge' Campaign to over 400 school children : He visited a different school daily for 8 days with the support of Sofitel Dubai the Obelisk and Spinneys, and made an interactive cooking demonstration in which the children participated by making their own super healthy lunch with the aim of showcasing the diverse and delicious local vegetables that are available right here in the UAE
"Its so important we continue to encourage children to make the right food choices, by cooking and tasting as we go. It's not only fun but it gets the children engaged with great fresh produce that they were perhaps unaware of, so it was super cool getting the children to take the Veg Pledge"
Partnering with Reloop as part of a Zero food waste program in the hotel:
"Food waste unfortunately will always be part of hospitality but how we manage it in the most responsible way is our opportunity to be better. Awareness, reduction, repurposing should always be the first thing we look at. Then comes the composting solution, by working with Reloop not only amplifies our was awareness, its creating usuable compost that allows local farms to use, its a win win - Production – waste – compost – fertilizer – growing – food production and so on, the full circle…"
Gault & Millau success across the hotel and the Michelin Bib Gourmand recognition for Brasserie Boulud are testament to Russell's drive and energy to ensure the team are always striving to be as good as they can be.
"Team work and doing the right thing lies at the heart of everything we do, ensuring we are looking after and supporting each others with the best possible attitudes, is so important. With the introduction of these two renowned listings the culinary world is watching Dubai more than ever, it's an exciting time to be cooking and we, as a team, will continue to do our best to drive a great food story"
Committed to the hotel team, Chef Russell improved the employee restaurant through better hydration and healthier menus through new initiatives : 'Plant powered Wednesday' a totally vegetarian day using only locally produced vegetables and leaves has now proved one of the most popular days of the week, 'No bin' Mondays have also been introduced in an effort to drive more staff engagement with the hotels efforts towards zero waste, 'Take what you want, but eat what you take' is the mantra.
He created internal monthly chefs' workshops and road trip to suppliers not only to increase awareness around sustainability but also to drive team engagement with his staff turnover in single digits in the last year
He will be continuing with his annual Breast cancer awareness campaign with this year's Planned #PinkbrigadeDxb in October with the support of the Obelisk culinary team and some well-known Dubai chef friends
His department also gained HACCP accreditation at the first inspection alongside a Dubai municipality 'A' grade rating; reinforcing the team's commitment to working with the best possible hygiene practices.
Chef Russell developed and piloted new breakfast standard for Accor's luxury and premium properties across the region, with a roll-out planned. The focus is on health and wellbeing, local and regional produce at its core and reducing food and plate waste.
Chef Russell supported and drove the food program for the QE2 and the British embassy for their VIP and local dignitaries as part of the Queens Platinum Jubilee event
He is launching 'Wafi Harvest' by Sofitel Dubai the Obelisk in September : our own on site chef driven Hydroponic farm that will supply all of our restaurants with onsite grown leaves and cress, tomatoes. An initiative that reduces the carbon footprint and encourages the locally grown – can't get more local than grown on site!
Chef Russell hosted 2 sold out events at Expo with the culinary team 'A Taste of the Obelisk' and s lunch with Chef Daniel Boulud and the Brasserie Boulud team