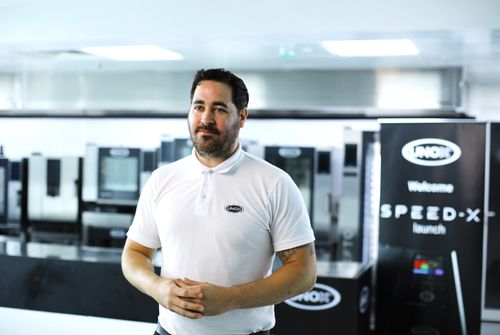 Matt Roberts
Director of Customer Experience MEA & India
,
UNOX
Matt Roberts, Managing Director of UNOX MENA, has nearly 15 years of experience in the food service manufacturing industry. Born and raised in a popular food service hub in Liverpool, Matt spent his summers working at his father's building company and eventually went on to become a project manager, to whom he credits his ability to problem solve.
He went on to the University of Sheffield, after which he found himself in a graduate job that left him wanting a challenge to learn and grow his skills. it was at this time that Matt found his niche as a highly motivated and confident Business Development Manager in the catering industry.
In 2009 Matt began as a Sales Assistant at Counterline Ltd which is a multinational SME manufacturer of catering equipment. Over the next 3 years, He was soon promoted to Export Manager and quickly established himself as an essential member of the fast-paced team and entrepreneurial environment, holding key accounts nationally and internationally. He was then given a career-changing opportunity when he received a sales inquiry from Kuwait. This led to him closing one of the biggest exports in Kuwait, after four months of hard work and determination.
For 4 years, from 2012 until 2016, Matt advanced as a Business Development Manager at Victor Manufacturing Ltd., a multinational catering equipment manufacturer. Here he gained specifications on projects such as Abu Dhabi Future Schools Program, Abu Dhabi Louvre, The Address Dubai, Qatar Foundation Golf Club, Kazakhstan Petroleum, Emirates Lounges, and Aviation College, Motion Park Dubai, and Petroleum Development Oman, to name a few.
Matt was then Vice President of International Sales at IMC/ Britannia Ventilation (Middleby Corporation), where he had another daunting task ahead of him. He met the challenge head-on and successfully set up a Middle East office for the two catering equipment manufacturers who previously managed the market from their UK offices.
Since joining the UNOX MENA team as Regional Director in 2018 and now leading the team as Managing Director, Matt is truly in his element. Initially approached to head up the sales department, he quickly proved his skills as a managing director by branching out beyond sales and overseeing the accounts, order processing, corporate chefs, and marketing teams. In 2022 alone, he opened offices in Riyadh, India, and South Africa.
His biggest obstacle is switching from selling to managing and helping other people sell. Matt found that taking time to step back and not jump in is important to let his team learn and give feedback afterward so they can do better the next time.
He firmly believes that the food service industry is the place for him. As Matt states, "Once you are in it, you never leave." His connections and experience within the industry convince him that there is no other avenue other than the food service industry.
His exceptional account management and development skills have led him to achieve and nurture key accounts, increase customer spending and exceed customer satisfaction metrics.
Matt anticipates that the Dubai Experience Centre will serve as an extension of the company's headquarters in Italy. The innovative and smooth space is a direct reflection of how far UNOX has come from its current offices, established nearly 5 years ago in JLT.
Matt's five-year plan is to achieve a 20% growth year on year for his team. Numerous new offices and demo kitchens will be opened in different regions in India, Riyadh, and Egypt. The aim is for every office to have its own country manager leading the team,